Found this at a garage sale a couple of weeks back. One of the legs had a big chunk of wood missing but nothing that a little epoxy couldn't fix...thanks BF. The pulls were missing but the girl having the sale happily told me they were in the drawer. In the drawer? Found out later one was bent. No biggie really, I was able to use pliers to reshape it.
The little purple thing is a clamp holding the veneer to the wood with some wood glue. OHH and notice the "new" leg?
My paint choices were limited so what's a "cheap mom" to do? I pulled out the leftover creamy white paint from
this project.
I added a bit of blue and some gray from my craft paint collection going for a subtle blue/gray.
Oh and I added a little something to the top. I drew out a design on tracing paper and used graphite paper to trace it on to the table top. I used a #5 round artist brush to form the comma strokes and the back of the brush to make the circles.
Finally glazed it and sprayed the now undistorted pulls, Krylon's Satin Nickle. Love it!
Then after summonsing my reluctant kids for their input. Yes, I'm desperate. They unanimously voted on this mind you after I had already mod podged the loser in place.
Linking up to ...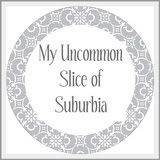 "/>
http://primitiveandproper.blogspot.com/2010/10/piece-of-work-wednesday-link-party_19.html
and of course here...
http://romantichome.blogspot.com/2010/10/show-and-tell-friday_21.html