I was given this toy box from a friend whose kids have long outgrown the toy years. The pic is sent from an iphone so it's a bit blurry.
Don't mind their mess. They had no clue I'd be blogging about this. I'm sure they would have tidied up a bit had they known :)
Primed and looking better already!
Started painting it and added a chalkboard top.
Ohh la la! I taped it off and painted random sized stripes then added a stencil design.
And some matching dots with the back of my paint brush.
Prettied up the inside door too.
Here is the stencil I used that I picked up at Michael's. I love it!! You will definitely be seeing it again and again and again! I'm thinking I might add it to the sides of this.
I'm linking here...
http://www.bluecricketdesign.net/2010/12/show-and-tell-with-miss-ruby-sue.html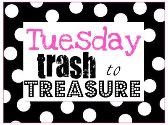 http://primitiveandproper.blogspot.com/2010/12/piece-of-work-wednesday-number-13.html