I received some ASCP for Christmas...no wax just the paint. Anyway, I'm a glazer so I just figured I'd glaze over the CP and forgo the expense of wax. Let's just say that didn't really work out the way I had hoped.
The paint sat until I found a Syroco mirror at the flea market. I gave it a coat of duck egg and really wanted that glazed/dark waxed look. The cheap Mom caved and off to buy wax I went. Not only did I buy both the clear and dark wax, I bought the brushes and a can of Louis Blue too. I splurged and it felt good!
The mirror was my practice project so I wouldn't screw up this beautiful piece I scored off CL. Practice makes perfect so they say.
I cleaned up the piece w/ TSP and
sanded down the top to get it ready for some new Minwax Provincial stain.
Then I mixed up some Paris Gray and Louis Blue because you know I love blue gray. It was so nice not to have to sand or prime.
I love the way it turned out and think it's my favorite piece to date. So, money well spent :)
I skimmed the pulls w/ Old White and left the original patina to peek through....LOVE!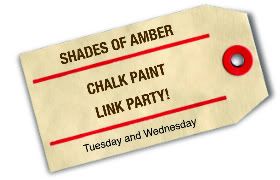 Linking up here...